The Pandaw experience is all about exploring remote and often hard-to-navigate rivers in specially-designed luxury small ships.
Each ship, hand-crafted in brass and teak, is an object of beauty in itself. A Pandaw adventure is very different from that offered on an ocean-going cruise. The ships are small scale, and the atmosphere is informal, and very friendly.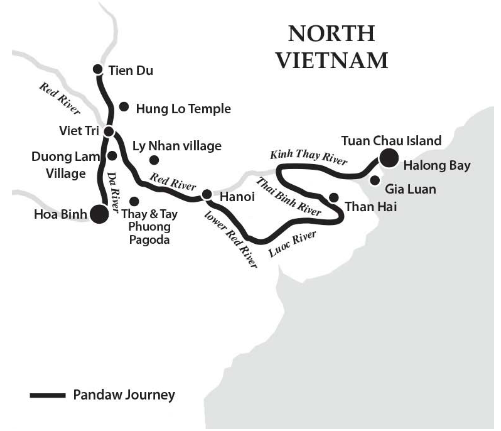 On a Pandaw ship travellers are able to explore the key sites of Northern Vietnam by river ship traversing the Red River delta and its main tributaries, connecting the wonders of Halong Bay with the excitements of downtown Hanoi, and then on into the interior, well off the beaten track. This is a combination of scenic beauty, lively and interesting (sometimes industrial) life of the river and exploring rivers where no other tourist craft operate.
Sailing deep into Highland Vietnam we will discover the mountain villages and a number of tribal areas. We will go as far as is navigable up the Song Red River and then down the little known Da or Black River. Note that this is a real river expedition and itineraries and schedules very much subject to change due to uncertain local conditions.
Date:
Ship - cruise
Nights
Main Deck Twin Share
Upper Deck Twin Share
08 May, 30 May 24
*New*
RV Angkor Pandaw - Upstream
More Cruise Details Click Here
10
Standard From $6470


Your Price from $4520

Standard From $7935


Your Price from $5529

Itinerary:
Halong Bay, KinhThay, Bat Trang, Hanoi, Lower Red River, Lo River, Da River, Hoa Binh
19 May, 10 Jun 24
*New*
RV Angkor Pandaw - Downstream
More Cruise Details Click Here
10
Standard From $6470


Your Price from $4520

Standard From $7935


Your Price from $5529

Itinerary:
Hoa Binh, Da River, Viet Tri, Lo, Lower Red River, Hanoi, Thai Binh, Kinh Thay Rivers, Halong Bay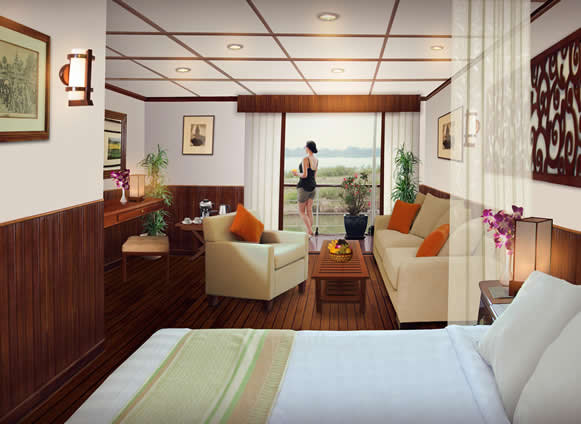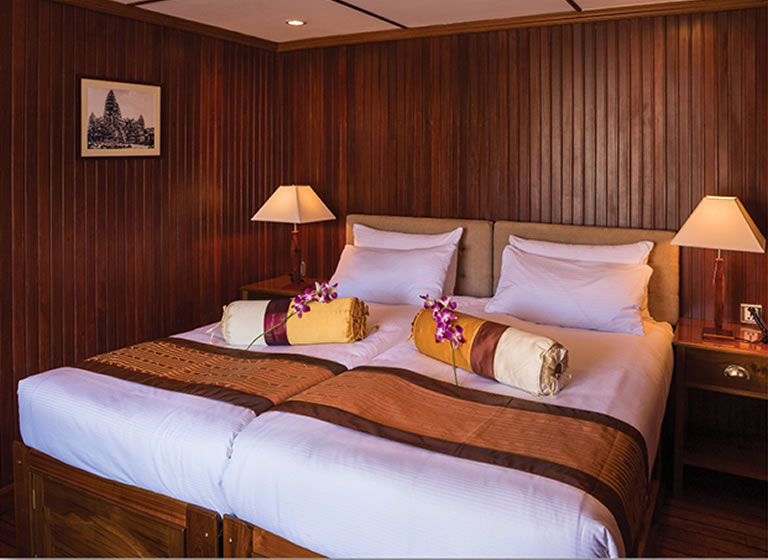 Cruise Price Includes: Entrance fees, guide services (English language), gratuities to crew, main meals, jugged coffee and selection of teas and tisanes, mineral water. Transfers between the meeting point and the ship at the start and end of a voyage.
Local spirits and beers are no longer included: There are Free Flow Drinks Packages that you can pre purchase:
Free Flow Drinks  Package:  Local spirits and beer,  click here
Free Flow Drinks Package:  Local spirits, beer and wine with lunch and dinner,   click here
Drinks packages are free to Pandaw members (past guests who have joined up as a member)
You can alternatively pay on consumption at the end of the cruise.
Prices are per person twin share in Australian Dollars. Prices include all port charges and taxes. Prices are indicative only as they are subject to regular changes. Please check with us.
Prices shown are subject to availability, eligibility and change without notice.  Prices are subject to currency exchange rates.
Single rates are available: Please ask for details.
No Triple configurations.
Industry rates can only be booked 3 months prior to sailing except where marked Book Now!
Eligibility:  TA / AL / RTA / TW / IATA + travelling companions
A booking fee of $100 per person applies.