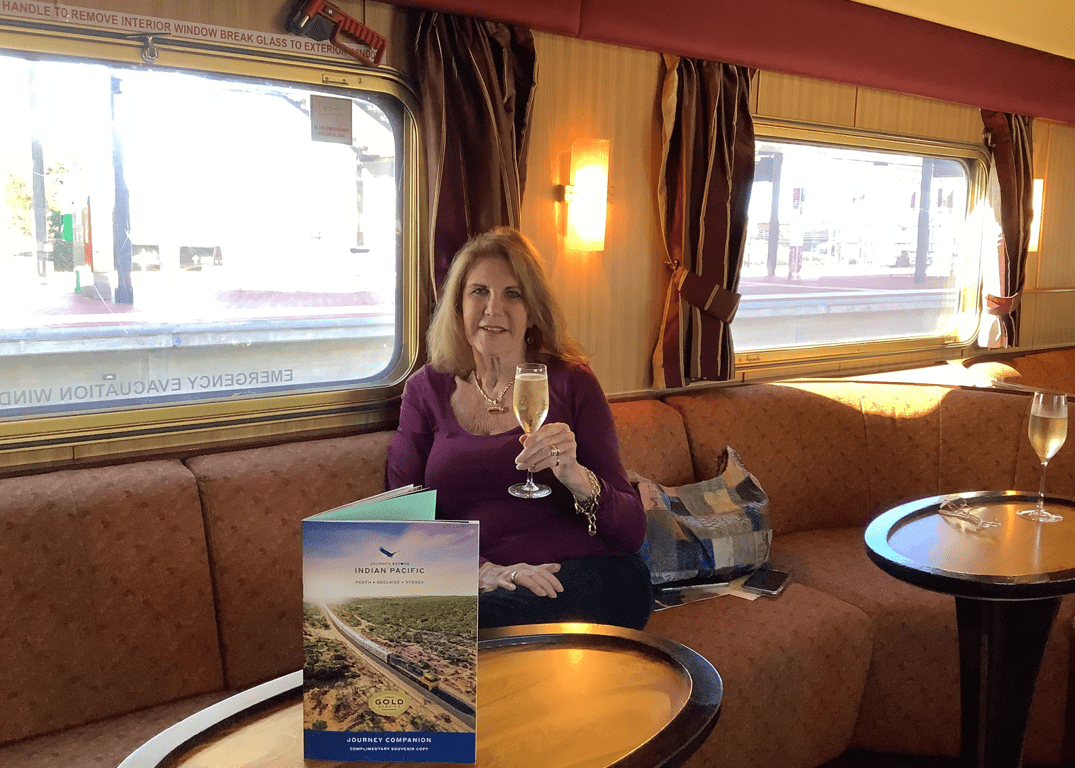 Indian Pacific Rail Journey
Date: 07 Mar 21
Itinerary:
Perth, Kalgoorlie, Nullarbor Plain, Adelaide, Broken Hill,
Blue Mountains, Sydney
I travelled on the Indian Pacific from Perth to Sydney on 07 March 21, on it's first journey since WA lifted it's borders. What an amazing experience it was! It is like a cruise on wheels.
The total journey is 4352 km's and takes 4 days / 3 nights. The Off Train Experiences are included and our stops were: Kalgoorlie, Rawlinna, Cook, Adelaide, Broken Hill and Blue Mountains.
I personally love and appreciate the beauty of the Australian Outback. Apart from the remoteness of the expansive 1000 km Nullarbor Plain, the train passes through mountains, rocky valleys and shrublands on it's way to Adelaide, Broken Hill and Sydney. It's a great relaxing time, watching the unfolding panorama, meeting new people, reading, computer catch up, eating, drinking and of course sleeping. The regular passers by – the enormous freight trains – are a spectacle in themselves and there are many of them.
The Indian Pacific website details optional tours on the journey – Click Here
A few amateur photos taken along the way.
The Off Train Experiences are all very different with remote Rawlinna and Cook in the Nullarbor, each with a population of 3 & 4 people respectively. Short brief stops in the middle of nowhere is interesting in itself. There are a choice  of tours in Adelaide and Broken Hill. These can all be seen on Journey Beyond website and you will be directed to these when you make a booking.
I was in a twin Gold Service cabin. During the day it is a 3 seater sofa and at night, above and below bunk beds. There is a very sturdy ladder to get to the top bunk, which I am told is very comfortable & safe. The cabin has it's own bathroom facilities with shower, toilet & basin. The very comfortable Outback Explorer Lounge and Queen Adelaide Restaurant carriages are designated for the Gold Service cabins and convey a welcoming art deco style.
The Platinum Service cabins are much larger (not quite twice the size of the Gold Service cabins) and have either a twin or double bed made up each night. The Platinum Service have their own combined lounge and dining carriage.
The food and service could not be faulted. At least 3 choices of starters, mains, and deserts / cheese. The quality was superb and the service second to none. First class in every way and of course alcohol is on tap throughout the journey – spirits and excellent wines.
It's a great opportunity to take the famous transcontinental crossing, relax and be pampered.