Amazing itineraries from Vancouver & Seattle cruising
Sawyer & Hubbard Glacier
Date
Cruise:

Nights
Inside
Outside
Balcony
03 Jun 22
* New*
Ovation Of The Seas: Alaska Glacier Cruise
7
Your Price From $1499
Your Price From $1999
Your Price From $2255
Itinerary:
Seattle, Cruising, Sitka, Skagway, Endicott Arm & Dawes Glacier, Juneau, Cruising, Victoria, Seattle
03 Jun 22
* New*
Radiance Of The Seas: Alaska Glacier Cruise
7
Your Price From $1020
Your Price From $1199
Your Price From $2599
Itinerary:
Vancouver, Cruising, Juneau, Icy Strait Point, Sitka, Skagway, Hubbard Glacier, Seward
10 Jun, 24 Jun 22
* New*
Ovation Of The Seas: Alaska Glacier Cruise
7
Your Price From $1499
Your Price From $2149
Your Price From $2259
Itinerary:
Seattle, Cruising, Alaska Inside Passage, Juneau, Skagway, Endicott Arm & Dawes Glacier, Cruising, Victoria, Seattle
10 Jun, 24 Jun 22
* New*
Radiance Of The Seas: Alaska Glacier Cruise
7
Your Price From $1020
Your Price From $1199
N/A
Itinerary:
Seward, Hubbard Glacier, Juneau, Skagway, Haines,Icy Strait Point, Ketchikan, Inside Passage, Vancouver
17 Jun 22
* New*
Ovation Of The Seas: Alaska Glacier Cruise
7
Your Price From $1549
Your Price From $2359
Your Price From $2699
Itinerary:
Seattle, Cruising, Ketchikan, Skagway, Endicott Arm & Dawes Glacier, Juneau, Cruising, Victoria, Seattle
17 Jun 22
* New*
Radiance Of The Seas: Alaska Glacier Cruise
7
Your Price From $1069
Your Price From $1299
N/A
Itinerary:
Vancouver, Cruising, Juneau, Icy Strait Point, Sitka, Skagway, Hubbard Glacier, Seward
08 Jul 22
* New*
Ovation Of The Seas: Alaska Experience Cruise
7
Your Price From $1499
Your Price From $1699
Your Price From $2399
Itinerary:
Seattle, Cruising, Alaska Inside Passage, Juneau, Skagway, Sitka, Cruising, Victoria, Seattle
08 Jul, 22 Jul 22
* New*
Radiance Of The Seas: Southbound Alaska & Hubbard Glacier
7
Your Price From $1139
Your Price From $1249
N/A
Itinerary:
Seward, Hubbard Glacier, Juneau, Skagway, Haines, Icy Strait Point, Ketchikan, Inside Passage, Vancouver
15 Jul 22
* New*
Ovation Of The Seas: Alaska Glacier Cruise
7
Your Price From $1420
Your Price From $1689
Your Price From $2239
Itinerary:
Seattle, Cruising, Ketchikan, Skagway, Endicott Arm & Dawes Glacier, Juneau, Cruising, Victoria, Seattle
15 Jul, 29 Jul 22
* New*
Radiance Of The Seas: Northbound Alaska & Hubbard Glacier
7
Your Price From $1039
Your Price From $1269
Your Price From $2945
Itinerary:
Vancouver, Cruising, Juneau, Icy Strait Point, Sitka, Skagway, Hubbard Glacier, Seward
05 Aug, 19 Aug 22
* New*
Radiance Of The Seas: Southbound Alaska & Hubbard Glacier
7
Your Price From $1139
Your Price From $1269
Your Price From $3139
Itinerary:
Seward, Hubbard Glacier, Juneau, Skagway, Haines, Icy Strait Point, Ketchikan, Inside Passage, Vancouver
12 Aug, 26 Aug 22
* New*
Radiance Of The Seas: Northbound Alaska & Hubbard Glacier
7
Your Price From $1003
Your Price From $1179
Your Price From $2559
Itinerary:
Vancouver, Cruising, Juneau, Icy Strait Point, Sitka, Skagway, Hubbard Glacier, Seward
02 Sep, 16 Sep 22
* New*
Radiance Of The Seas: Southbound Alaska & Hubbard Glacier
7
Your Price From $1019
Your Price From $1085
Your Price From $2399
Itinerary:
Seward, Hubbard Glacier, Juneau, Skagway, Haines, Icy Strait Point, Ketchikan, Inside Passage, Vancouver
09 Sep 22
* New*
Radiance Of The Seas: Northbound Alaska & Hubbard Glacier
7
Your Price From $930
Your Price From $1004
Your Price From $2569
Itinerary:
Vancouver, Cruising, Juneau, Icy Strait Point, Sitka, Skagway, Hubbard Glacier, Seward
Inclusions: Accommodation, Entertainment, Kids & Teen Facilities, On Board Activities, Meals including 24 hour room service.
Your adventure is about to hit an all-new high point.
Explore new, captivating shores onboard Ovation of the Seas®, one of the boldest ships in the fleet. Scope out the scenery from the unrivalled perspective of North Star® – the highest vantage point on any cruise ship. Settle in for edge-of-your-seat entertainment, game-changing family fun you can enjoy in any climate and breathtaking vistas from every stateroom – even interior staterooms offer real-time views from a Virtual Balcony℠. All between unforgettable destinations across Australia, New Zealand and the South Pacific.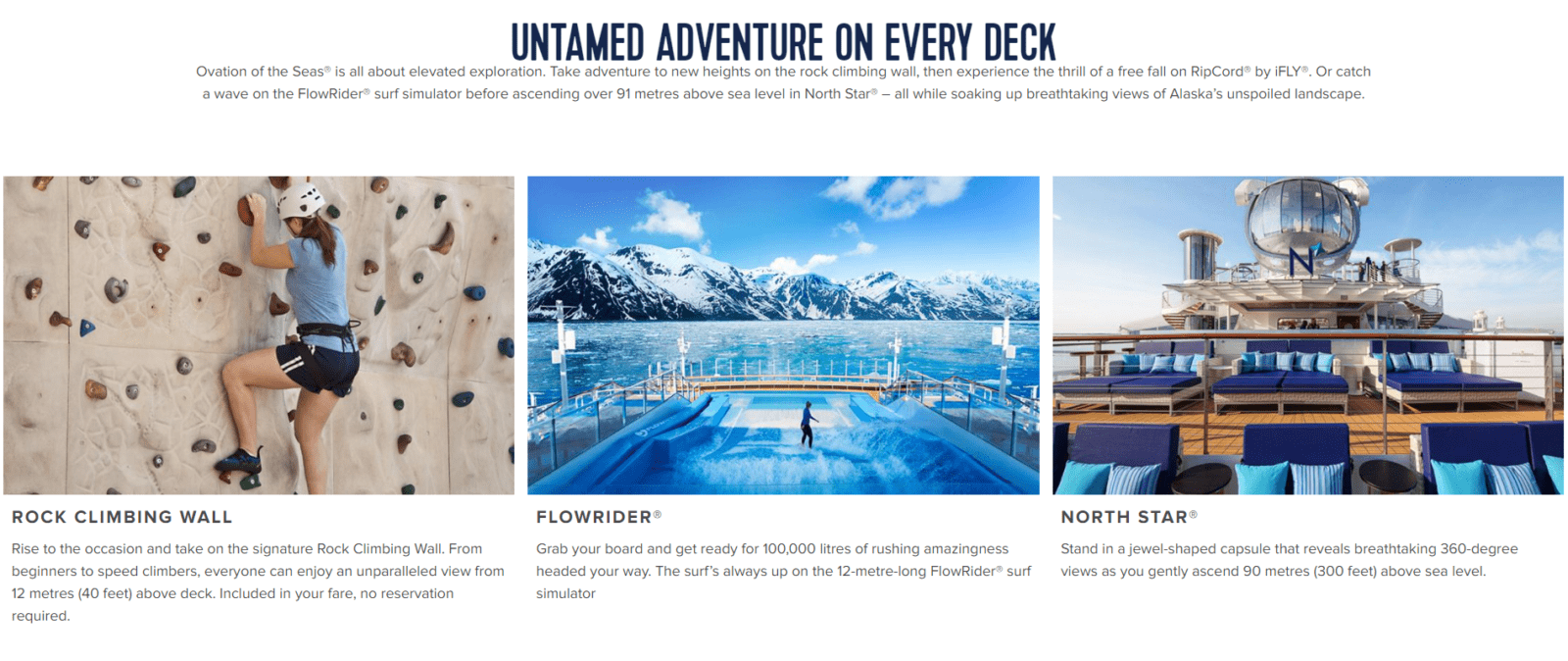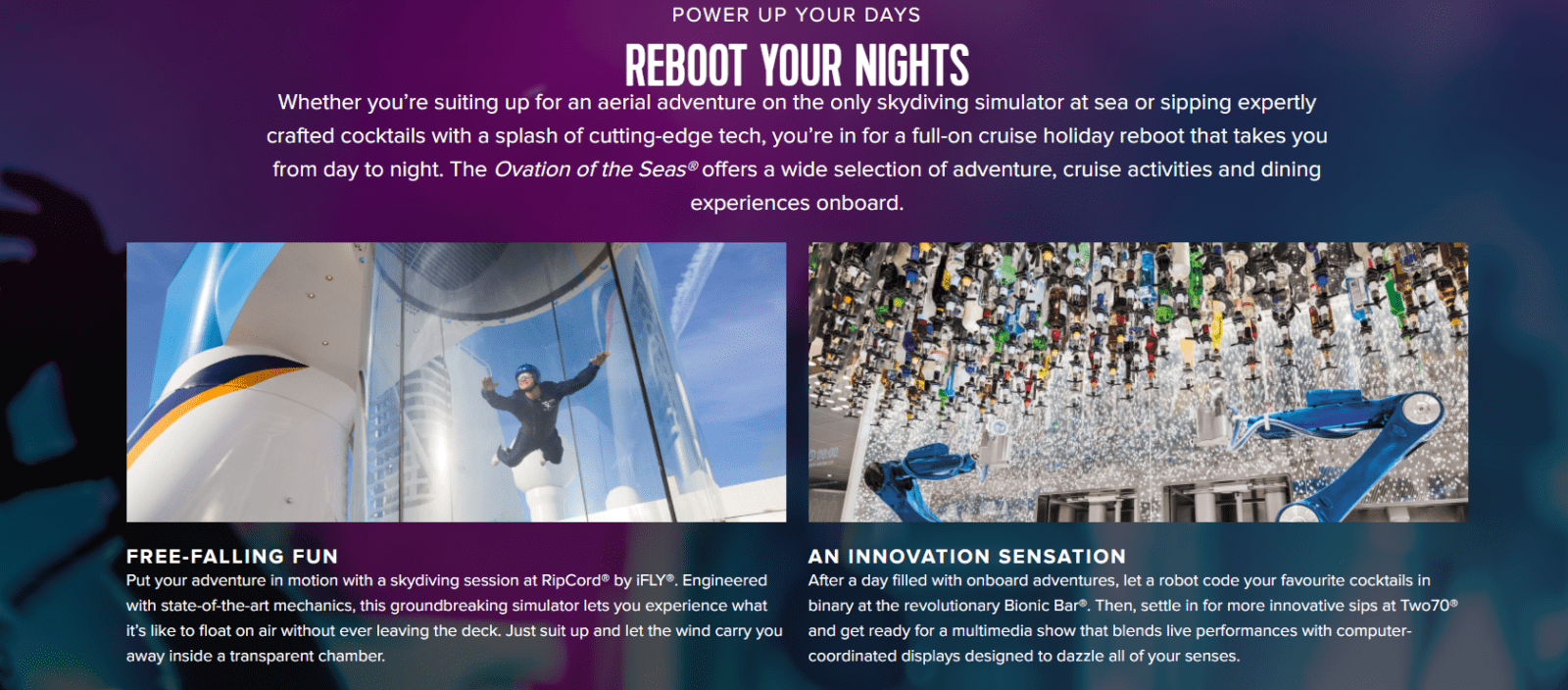 ​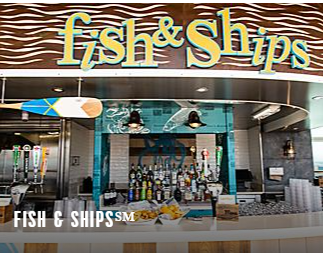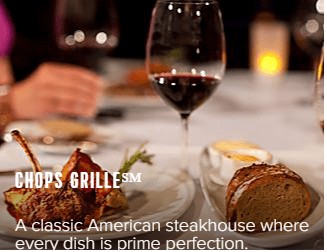 [/fusion_builder_column][/fusion_builder_row][/fusion_builder_container][/fusion_builder_row][/fusion_builder_container]
Prices are per person twin share. Prices include all port charges and taxes.  Gratuities are additional and will be confirmed at time of booking.
At times Royal Caribbean runs special promotions that may better than the industry rate, in which case you can book the lowest rate.  This is only a selection of the cruises we have on offer.  Please contact us if you have specific dates or cruises you require.
Eligibility:  All travel Industry Club Members and their family travelling companions- Some exceptions may apply.
Conditions: Cancellation, amendment fees will apply – Check with us for details
Please Note: Prices are based on dynamic pricing and change constantly.  Prices are an indication only,  subject to availability, eligibility and change without notice.
Register to book now.  Some cruises have an advance purchase requirement – Check with us for details.
A booking fee of $100 per person applies.