New Industry Rates with Oceania Cruises
Intimate & Luxurious Ships
From the dramatic glaciers of Alaska to the picture-perfect harbors of New England and Canada, our North America cruises bring you natural wonders and imaginative experiences throughout the seasons. In the summertime, the Alaskan coastline is full of outdoor adventures, while one-of-a-kind coastal villages dotting the Northeast brim with life and local flavor. Carefree Bermuda escapes are equally alluring along with our fall foliage cruises.
Date
Cruise:

Nights
Oceanview Stateroom
Veranda Stateroom
Concierge Level Veranda
03 May 22
*New*
Oceania Regatta: Los Angeles to Los Angeles
More Cruise Details Click Here
10
Brochure $7040


Your Price $2599

Brochure $8750


Your Price $3125

Brochure $10240


Your Price $3529

Itinerary:
Los Angeles, Ensenada, Pacific Ocean, Cabo San Lucas, La Paz, Mazatlan, Manzanillo, Puerto Vallarta, Pacific Ocean, Los Angeles
13 May 22
*New*
Oceania Regatta: Los Angeles to Vancouver
More Cruise Details Click Here
12
Brochure $8970


Your Price $3039

Brochure $11300


Your Price $3649

Brochure $11710


Your Price $4175

Itinerary:
Los Angeles, Pacific Ocean, San Francisco, Pacific Ocean, Astoria, Outside Passage, Sitka, Hubbard Glacier, Juneau, Ketchikan, Inside Passage, Vancouver
25 May 22
*New*
Oceania Regatta: Vancouver to Seattle
More Cruise Details Click Here
9
Brochure $6980


Your Price $2379

Brochure $9270


Your Price $2860

Brochure $9590


Your Price $3179

Itinerary:
Vancouver, Inside Passage, Ketchikan, Juneau, Hubbard Glacier, Icy Strait Point, Sitka, Outside Passage, Victoria, Seattle
10 Jun 22
*New*
Oceania Regatta: Seattle Roundtrip
More Cruise Details Click Here
7
Brochure $6320


Your Price $1939

Brochure $8100


Your Price $2339

Brochure $8370


Your Price $2585

Itinerary:
Seattle, Inside Passage, Ketchikan, Icy Strait Point, Sitka, Outside Passage, Victoria, Seattle
14 Jun 22
*New*
Oceania Insignia: Lisbon to New York
More Cruise Details Click Here
21
Brochure $14730


Your Price $5015

Brochure $17060


Your Price $6009

Brochure $17570


Your Price $6750

Itinerary:
Lisbon, Oporto, La Coruña, Bay of Biscay & English Channel, Paris, London, Amsterdam, English Channel & Atlantic Ocean, Waterford, Dublin, Belfast, Atlantic Ocean, St. John's, Atlantic Ocean, New York
Larger ships simply cannot provide the pronounced intimacy, coziness and personalized vacation experience for which Oceania Cruises has become renowned.
Intimate & Luxurious ships catering to just 684 or 1,250 guests
Visit boutique ports and seaside villages that large ships cannot access
Never a crowd and no waiting in lines; experience your vacation according to your own schedule
With open-seating in all our restaurants, dine where, when and with whom you please, at your own pace
Cuisine never prepared en masse; every single dish created à la minute just for you
Staff and crew attend to your every whim and remember your individual preferences
Suites & Staterooms
The Luxury of Space Abounds
The generous dimensions of our suites and staterooms afford the ultimate in luxury.  A fashionable color palette blends sea, sky and comforting earth tones to create a soothing environment that invites relaxation. Every suite and stateroom on board will be imbued with an even more luxurious ambiance, featuring designer residential furnishings, fine fabrics and plush draperies, chic lighting and much more.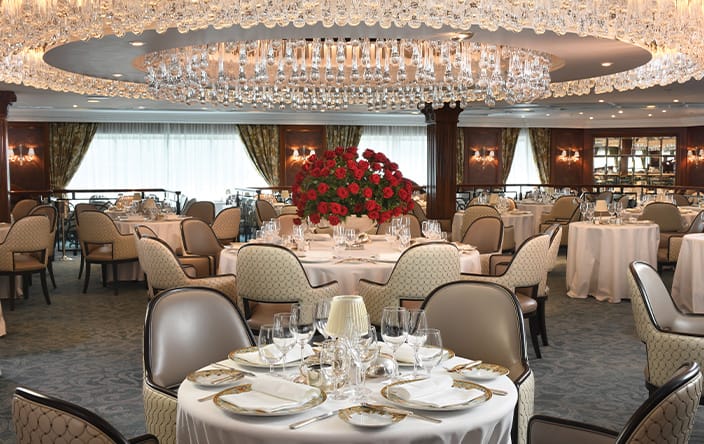 The Grand Dining Room
The Grand Dining Room is a study in stateliness, a tribute to the spirit of Europe's marquee five-star hotel restaurants that inspired its dignified yet convivial ambiance. Handsomely decorated in rich woods, designer tapestry fabrics and oversized armchairs, the expansive dining area exudes classic splendor. This signature dining experience has always offered a bevy of delicious Continental dishes, and now a fresh and new array of options brings you even more exciting choices, as well as an incredible spectrum of global flavors and an all-new Executive Chef's Tasting Menu. As variety is essential to your satisfaction, menus change daily with an expansive choice of at least 10 appetizers, soups and salads and 10 dinner entrées, along with healthy options such as Aquamar Vitality Cuisine, gourmet vegetarian selections and the most extensive array of plant-based dishes at sea. In addition, during sea days you can enjoy a leisurely lunch in The Grand Dining Room. Savor quintessential French dishes as well as lunchtime favorites and flavorful regional specialties.
Experience Regatta
Experience the warm and convivial atmosphere unique to Oceania Cruises: elegance without pretense. Feel wonderfully at home as you meet fellow shipmates, explore the ship and prepare for the fascinating ports of call you will soon discover. Meet friends for cocktails at Martinis and share adventures you enjoyed ashore. Join an afternoon bridge game, or perhaps simply relax by yourself in one of the many private retreats reserved just for you.
The stimulating variety of entertainment options on board our ships continually ensures your interests are piqued. Enjoy an engaging guest lecture by a historian, naturalist or former ambassador eager to share insider knowledge. Relax at a musical performance, perhaps featuring a live pianist, a classical string quartet, a dynamic vocalist or a spectacular headliner. Later, try your luck at the elegant Monte Carlo-style casino or go dancing at Horizons.
Prices are per person twin share in AUD.  Port Taxes & surcharges are additional & will be confirmed at time of booking.
Savings are per person. All rates are specials for travel industry employees.
Eligibility:  All Industry Members and friends sharing stateroom accommodations with active employees. 
Conditions: Cancellation, amendment fees will apply – Check with us for details.
Please Note: Prices are based on dynamic pricing and change constantly.  Prices are an indication only,  subject to availability, eligibility and change without notice.
A non refundable booking fee of $100 per person applies.